The results are stunning!
During California Grown Flowers Month in June, retailers like Bristol Farms and Northern California Safeway stores went above and beyond in creating displays, point-of-purchase materials and special offers on California Grown Flowers.
With the data now in, we're excited to share that their efforts to promote homegrown flowers and share the importance of flower origin with customers paid off!
Participating NorCal Safeway stores saw enormous increases in cut flower sales in June. How big, you ask?
One store's cut flower sales were up 31.5% (Store 1761 in Lincoln, CA) in June. Others saw increases of 26.8% (Store 1617 in Burney, CA), 23.8% (store 1617 in Roseville, CA) and 5.6% (store 2683 in El Dorado Hills, CA).
The entire NorCal division saw an increase in cut flower sales of 5.4%.
Talk about putting an end to the summer slump!
Bristol Farms stores also went all out to promote California Grown Flowers with displays that included farmer's stories and CA Grown Flowers Month signage.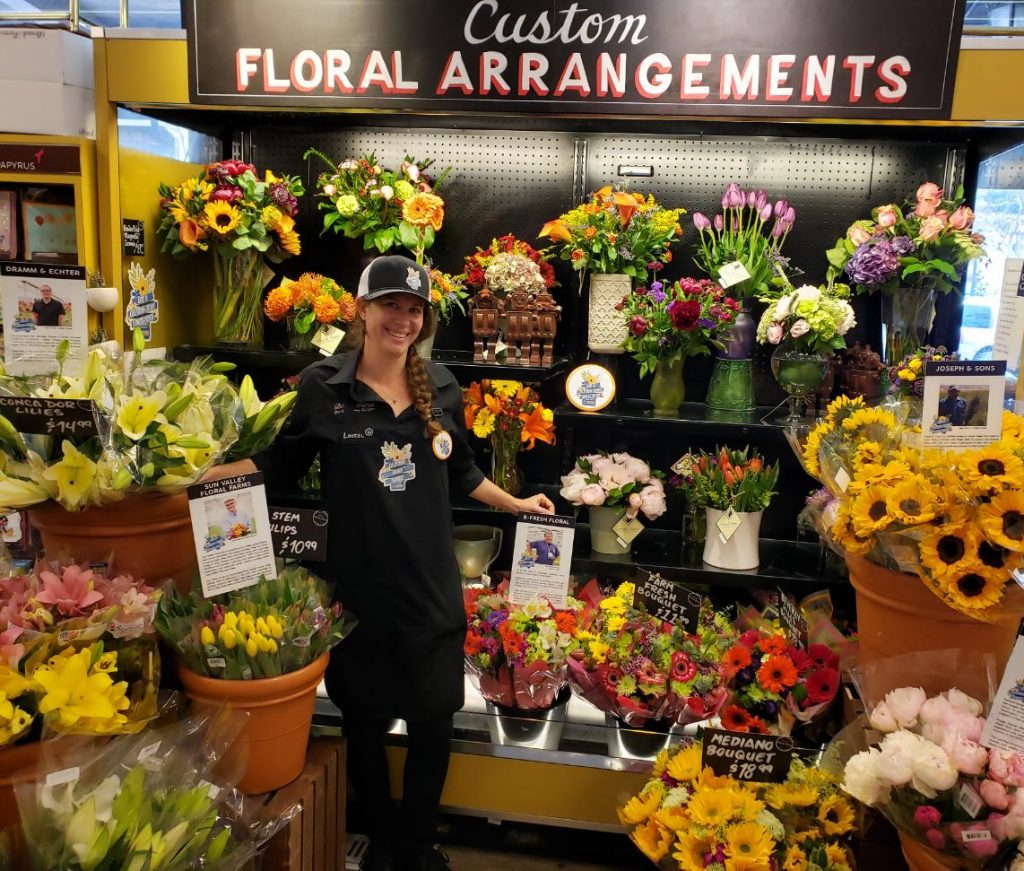 Employees also donned the blue and gold celebratory logo to help spread the word to customers.
We're already making plans for California Grown Flowers Month 2020! If you want to increase sales, spread the word about the state's cut flower farmers and create breathtaking displays during one of the biggest flower-producing months, be sure to join us!
Flower Donations, Ambassadors Needed
Plans for the first two Certified CA Grown entries at the 2020 Tournament of Roses Parade are already underway, and the full ramp up to the New Year's Day tradition has begun.
The entries from Cal Poly Universities and FTD Companies Inc. – the first to announce so far – will both feature at least 85% CA Grown flowers and foliage – allowing them to meet certification requirements.
Additional CA Grown entries will be announced in coming weeks, including a number of equine entries.
The theme for the 2020 Rose Parade is "The Power of Hope," and the goal is for every entry to celebrate the influence optimism and hope can have on the world.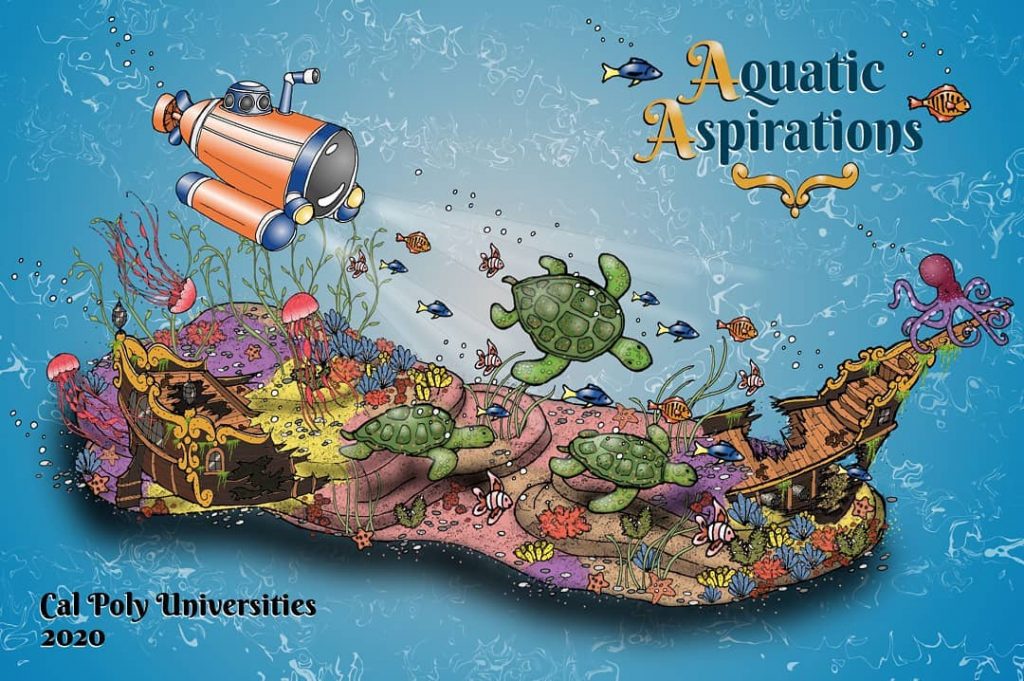 This year's float from Cal Poly Universities – they're 72nd – is titled "Aquatic Aspirations."
The student-created entry will feature an optimistic submarine that sets out into the deep blue sea aspiring to discover fortune and riches, but instead comes across something much better than ever expected. With the help of some aquatic sea life – including jellyfish, sea turtles and a school of vibrant fish – the explorers are guided to a breathtaking underwater home thriving among the pieces of an old sunken ship.
"As Cal Poly students setting off on an exploration into our futures, we never know what treasures we might encounter as we aspire to achieve our goals. The spirit of discovery conveyed by our float embodies the idea that no matter what dreams you strive to achieve, hope can be a powerful guide to reaching your own treasure," described Cal Poly's float team in a Facebook post.
The California Cut Flower Commission's (CCFC) Anna Kalins, who leads the organization's Rose Parade efforts, is seeking donations of flowers and greens for the Cal Poly float. This year, the Sun Valley Group and Pyramid Flowers are growing specific flowers requested by students for the float, but additional flowers are needed.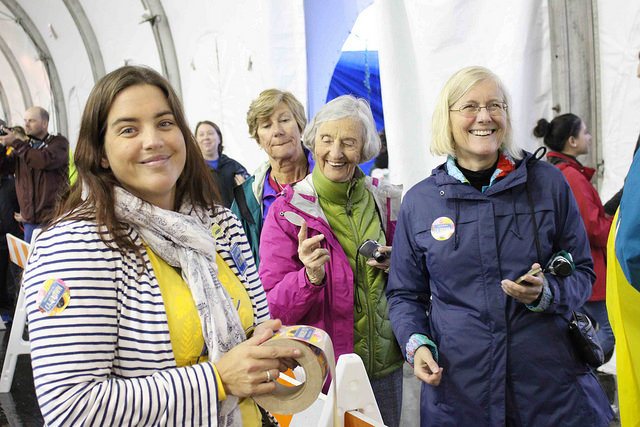 Also needed are Rose Parade ambassadors to help at the event itself and in the days leading up to the parade. It's a great way to connect with consumers directly, share your passion for California Grown Flowers and spend time with industry friends!
To donate flowers or volunteer, email Kalins at akalins@ccfc.org.
Tour, Discussions Put Focus on Key Issues, Industry Innovations
While flower farmers make a visit to Washington, D.C., each year to connect with policymakers, a recent meeting with staff from Congressman Salud Carbajal's office brought policymakers to the flower farm.
Last week, Jeremy Tittle, chief of staff, and Erin Sandlin, agriculture legislative assistant, visited Ocean Breeze Farms in Carpinteria on behalf of Carbajal, a co-chair of the Congressional Cut Flower Caucus.
While there, Tittle and Sandlin toured the farm and met with farmers Rene and June Van Wingerden, chair of the California Cut Flower Commission (CCFC). They were joined by CCFC interim CEO Dave Pruitt and Jumana Misleh, CCFC's federal affairs representative.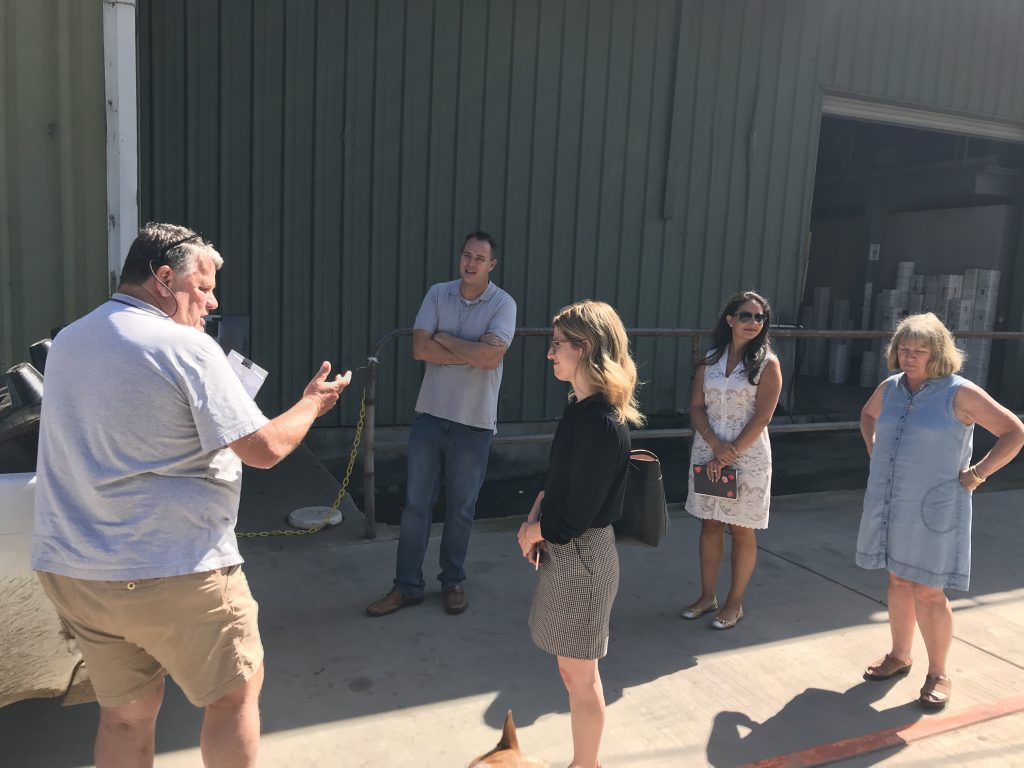 During the meeting, the Van Wingerdens summarized the top three cut flower issues they believe Congressman Carbajal should focus on: enforcement of labeling laws on imported flowers, passing the American Grown Act and immigration reform.
Tittle and Sandlin responded by agreeing to follow up on the labeling issue and promising to review alternative ways to move the American Grown Act, including looking at modifying appropriations language. They also indicated that while discussions on immigration reform continue, the chances of action on the issue this year are slim.
The group then toured an Ocean Breeze Farms greenhouse, learning about the growing process of Gerbera daisies and hearing about the innovations implemented on the farm, including hydroponic growing and integrated pest management, which has made the operation chemical-free.
Also discussed during the tour were the slim margins flower farmers face, how farms are cutting costs with efforts like using plants for longer periods, and the importance of a consistent, skilled labor force.
Tittle and Sandlin left California with a deeper understanding of flower farming and a pledge to continue to provide support for California's flower farmers in Washington, D.C.
"Meetings like these continue to stress the importance of having a strong relationship with our state and federal representatives to educate and convey the issues that all flower farmers face," notes CCFC's Pruitt. "We hope that through meetings like this, we continue to ensure a bright future for American flower farmers."