California Grown's mission is to connect Californians with the people who grow and produce their food. Soon, they'll be doing so via a new marketing campaign that's described as a love letter to California.
The project will celebrate California agriculture through a digital media effort that includes live action and animated videos, and social media, among other approaches. The goal is to pay homage to the folks that produce all of the state's crops in a lighthearted and fun way, explains Nick Matteis, executive director for the Buy California Marketing Agreement.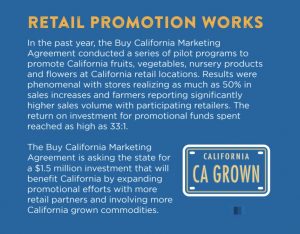 "We've taken the story of California agriculture to another level to send a love letter from our California producers and their fine products through a digital media effort we think will be a fabulous story to share with our audience," Matteis says. "We'll approach it from the idea that these crops are a gift from our farmers and farm workers for all to enjoy, and we'll connect to where the product starts and where it ends up."
That will be achieved with video and images provided by ag organizations – including Certified American Grown and the California Cut Flower Commission – that will show the growing process from planting to growing season to harvest to distribution.
"We're excited about that fact that this campaign is a love letter from our farmers to the folks that enjoy the products. It's a positive vibe on so many different levels," Matteis says.
Be sure to watch for glimpses of amazing California Grown Flowers when the campaign launches!