Entry featured over 33,000 stems donated by 21 California flower farmers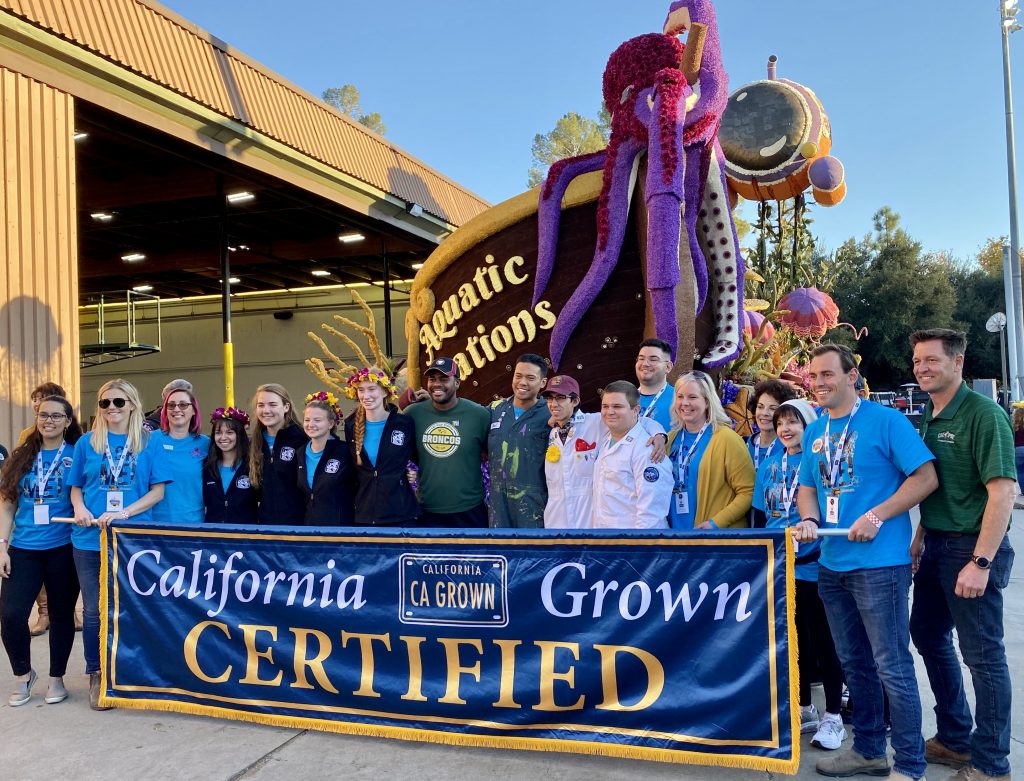 Entry featured over 33,000 stems donated by 21 California flower farmers
Thirty-three thousand stems. Twenty-three donating farms. Twenty farm ambassadors. Ten thousand stickers. Seven-hundred thousand attendees. Sixty-five million TV viewers. Those are the figures behind the award-winning Certified California Grown Rose Parade entry from Cal Poly Universities.
The float, titled "Aquatic Aspirations," earned the Director Award for the most outstanding artistic design and use of floral and non-floral materials at this year's Rose Parade, held New Year's Day in Pasadena, California.
The entry, designed, constructed and decorated by students from California Polytechnic State University, San Luis Obispo and California Polytechnic State University, Pomona, included over 94 percent of cut flower and plant materials from California – just one more data point that shows how impressive this win really is!
The float earned California Grown Certification at a ceremony Dec. 31. Certified floats must be decorated with more than 85 percent of cut flowers and greens from the Golden State. This is the ninth year the Cal Poly float has earned California Grown certification. 
The float featured a submarine exploring a sunken shipwreck that's also home to a colorful array of marine wildlife, including animated turtles, jellyfish, swimming fish, a rocking ray and swaying kelp. While a 9-foot-long submarine rocked back and forth at the rear of the float, an octopus at the front glided 13 feet high while waving its tentacles toward the massive audience. It is the seventh time in 72 appearances that a Cal Poly float has featured an ocean-related design — this year celebrating the parade's theme, "The Power of Hope."
Over 20 Volunteer Farm Ambassadors donated their time to spread the message of California Grown Flowers in advance of the parade during "Deco Week," handing out over 10,000 stickers during their conversations.
The numbers don't lie. Origin matters and more folks than ever are receiving the message and learning about the movement!