For 17 days this summer, California Grown Flowers were center stage at the California State Floral Association's (CSFA) booth at the California State Fair. This year's theme was "Back to the Floral Future."
The fair's run was kicked off at the California State Fair Gala on June 21 that featured flowers and foliage donated by California Pajarosa, Dramm & Echter, Glad-A-Way, Holland America Flowers, Joseph & Sons, Mellano & Company, Myriad Flowers International, Resendiz Brothers Protea Growers and Sun Valley Floral Farms.
For more than two weeks, fair visitors learned about the value of buying California Grown Flowers and visiting local florists as they viewed floral arrangements at the CSFA booth. Visitors were also provided with post cards and other information about California Grown Flowers that was provided by the California Cut Flower Commission (CCFC).
California flower farmers Robert Kitayama of Kitayama Brothers, Janet Louie of Green Valley Floral and Hannah Muller of Full Belly Farm also made appearances at the booth each weekend of the fair.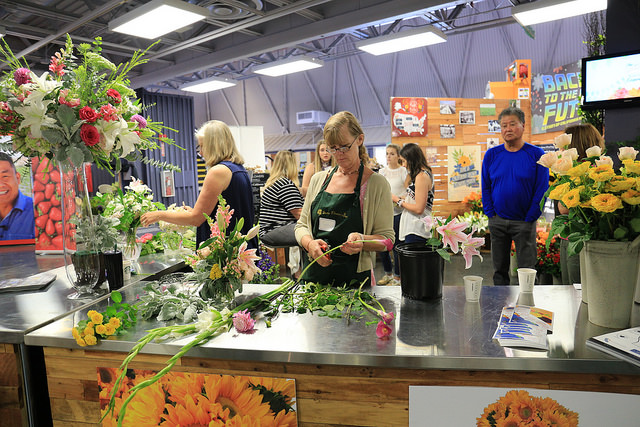 And flowers were the focus of the fair on July 22  which was declared Flower Day at the State Fair for the fourth year in a row.
In a love tribute, extra donated floral product was given to The Petal Connection, a nonprofit organization whose mission is to connect beautiful floral bouquets with local hospice patients and seniors in need of a little joy.