Get a Sense of What Farmers Experienced
The threat to California's flower farms from several Southern California wildfires is almost over. (Insert collective sigh of relief here). That said, flower farmers and others in the ag community can tell you it was an experience like no other – and something they hope to never experience again.
While fire officials are now focused on "mop up" activities in the Carpinteria area, the Thomas Fire appears to have left flower farms largely unscathed. Mandatory evacuation orders have made accessing farms and the daily harvesting flowers challenging, but those evacuation orders are anticipated to be lifted soon.
And yet what flower farmers saw, heard and felt as they endured the worst fires in the state's history can't be underestimated. Here's a glimpse into a few of the experiences:
In Carpinteria, Dani Hahn of Rose Story Farm took to Instagram to share her farm's story. She posted photos of an all-female strike crew, 25 of them, who took a stand at the edge of her farm at 2:30 a.m. fighting back the flames and literally saving the farm.
She also shared her concerns about losing the 150-year-old historic home on the farm, posting about the home's history and thanking firefighters – some posted on her roof – for their efforts.
And at one point, there were 50 firefighters, eight fire trucks and three bulldozers protecting the farm as the fire approached the property line.
"It's fascinating and terrifying at the same time," Hahn describes. And the aftermath – "Otherworldly, it feels like you're looking up and you're on the moon."
Hahn lost one row of about 200 rose plants, but is in back in business and shipping out roses. What she feels most deeply is gratitude.
"I'm not concerned about the roses at all, and the ash will be wonderful for the soil. I just want to shout out to these wonderful people (firefighters) who continue to come by, mop up and take care of anything left in their wake. Every one of them has been so polite and so lovely. It's a well-oiled machine and they do the best they can in horrible situations. I have an overwhelming sense of gratitude for all they did."
On Tuesday California Cut Flower Commission CEO & Ambassador Kasey Cronquist traveled to Carpinteria Valley to speak with local county and fire officials regarding the importance of California's cut flower industry in Carpinteria. He also had a chance to visit with farmers in the valley and survey the fire damage in the community.
"What those firefighters did to protect America's flower basket is amazing," Kasey shared. "We are very appreciative of the brave men and women who put their lives on the line to protect this community. After seeing how close the flames were, how big they were, it is amazing that more was not lost."
Ivan Van Wingerden of Everbloom, Inc. provided a glimpse into what was happening near his farm through his Instagram page.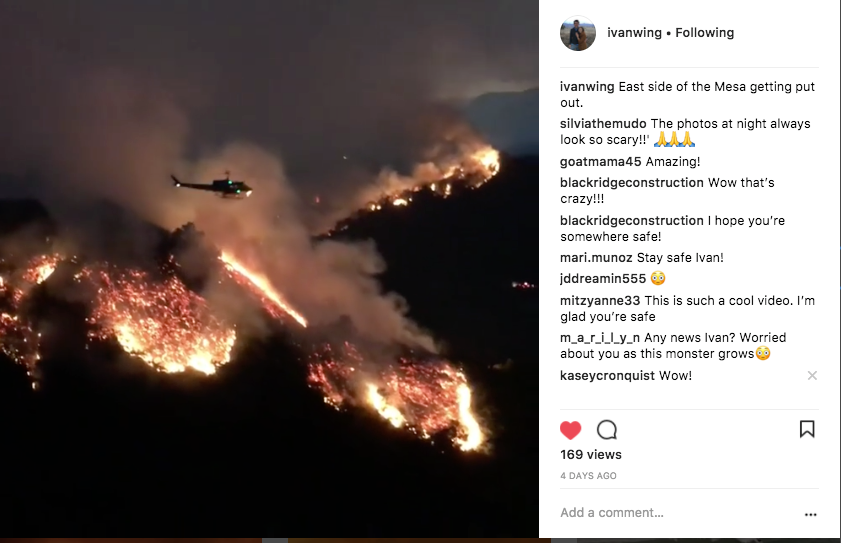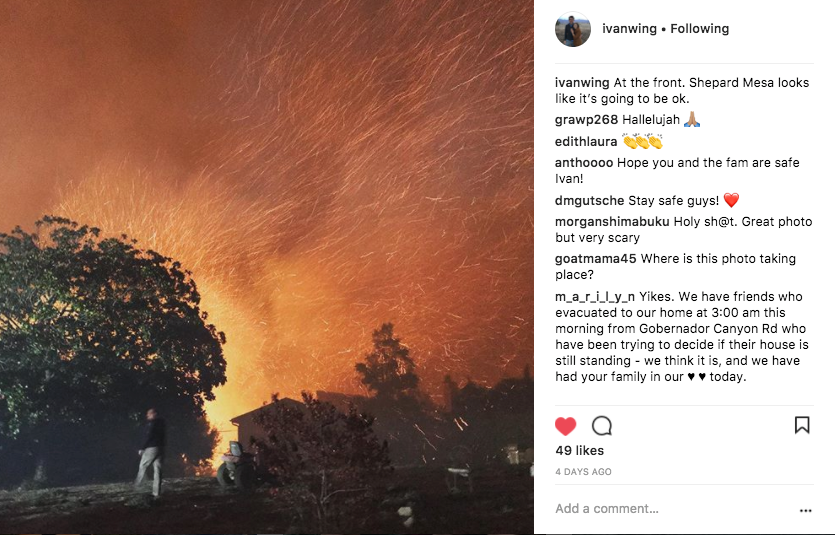 And flower farmer David Van Wingerden, owner of Westland Orchids, became a regular on Facebook Live, sharing his experience across several days as the fire approached his farm, seemed to come terrifyingly close, but continued to calmly share that their farm was in the clear.
The Lilac Fire in San Diego is now 95 percent contained, but drew awfully close to Mellano & Company's farm in San Luis Rey in Oceanside, California.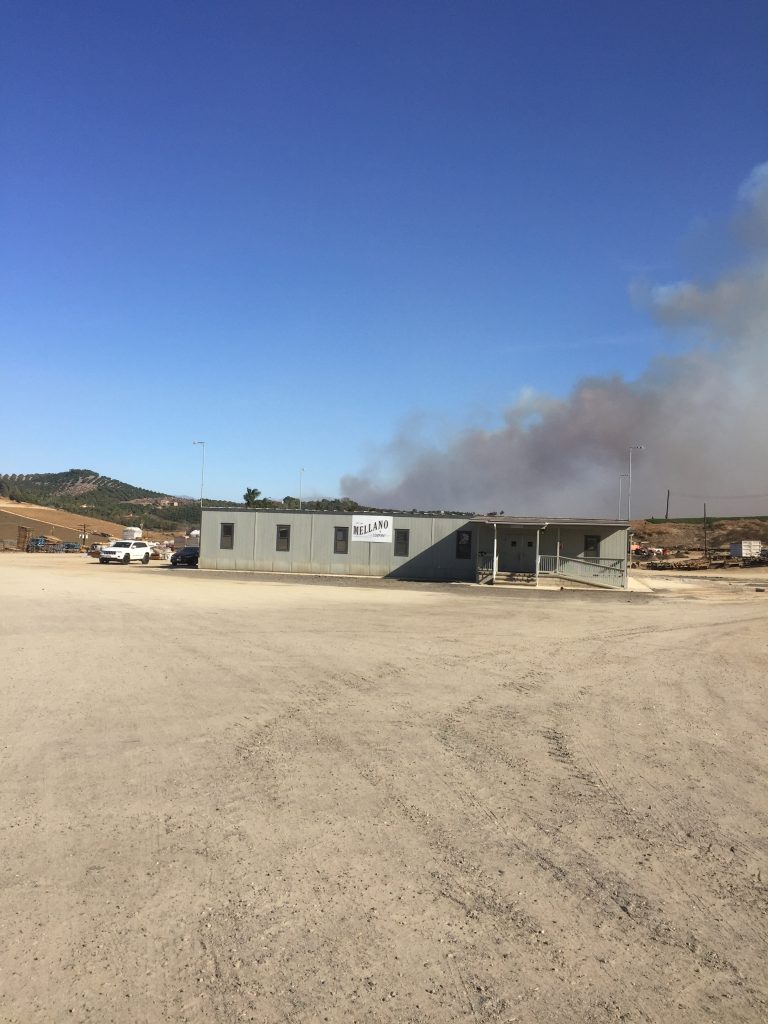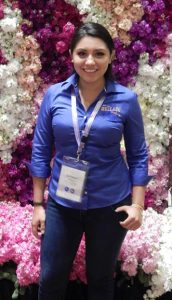 "These fires are so unpredictable," shared Mike A. Mellano of Mellano & Co. "Fortunately, this one only came within a mile of the farm on Friday and normal operations resumed on Monday."
While California's flower farms were spared by these wildfires, employees, their families and friends throughout the industry have all been touched by someone who lost their home.
Sadly, Mellano & Co employee Nathalie Olvera lost her home in the Lilac Fire. The Olvera family home was one of 157 structures lost in the fire. A GoFundMe campaign has been created to help the family through this difficult time.
All in all, the situation could have been much worse, but over the last week there have been some incredible examples of heroism by first responders and communities coming together to help one another.
Like Hahn, gratitude is the overwhelming feeling among flower farmers.