Last month, Congressman Salud Carbajal (CA-24) introduced a bipartisan resolution designating July as "American Grown Flowers Month."
Co-sponsored by Rep. Jaime Herrera Beutler (WA-03), Rep. Jimmy Panetta (CA-20), Rep. Duncan Hunter (CA-50), Rep. Chellie Pingree (ME-01), Rep. Don Young (AK-1), Rep. Jared Huffman (CA-02), and Rep. Darrell Issa (CA-49), House Resolution 413 declares July as the month to celebrate the economic and cultural impact of America's cut flower and greens farmers and demonstrate Congress' commitment to support America's flower farming families.
Congressman Carbajal spoke from the House Floor, introducing the legislation and encouraging fellow members of Congress to support American Grown Flowers Month.
"I have seen firsthand the value the cut flower industry adds to our economy and communities during my visits with our Central Coast growers," said Rep. Carbajal. "California produces three-quarters of all cut flowers grown in the United States. I am committed to recognizing their contribution by designating July as American Grown Flowers Month, in order to celebrate the beauty this industry brings to our homes and celebrations year-round."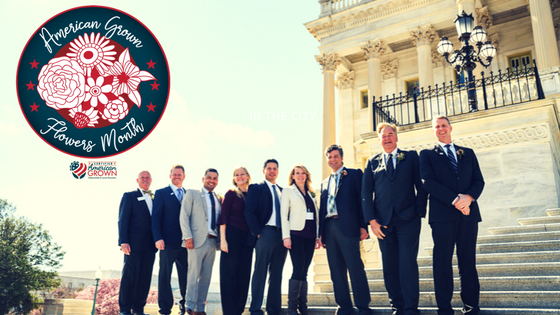 It's a movement that's gained tremendous traction in recent years as consumers become more and more concerned about the origin of the products they bring home.
"Origin matters," explains consumer advocate Debra Prinzing, author of the book Slow Flowers and member of the Certified American Grown Council. "As the founder of American Flowers Week (June 28-July 4), I have witnessed a profound culture shift in flower buying in the United States. Like the slow food movement, more and more Americans are looking for a better and more sustainable choice when buying their flowers."
Senators Dianne Feinstein and Lisa Murkowski introduced a similar measure in the Senate.