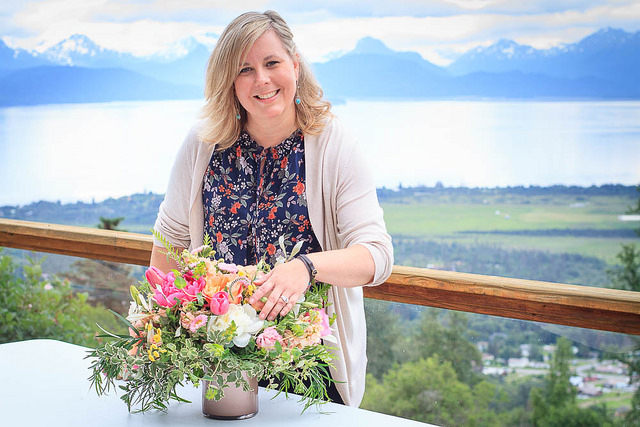 Kelly Shore's Doing Her Homework
A week spent in Alaska with flower farmers was the tipping point for Kelly Shore, owner and lead designer at Petals by the Shore in Maryland.
Shore was in Alaska to design the tablescapes for an American Grown Field to Vase Dinner being held at Scenic Peonies last summer. She went there with a job to do, but when she left Alaska 10 days later, her gut told her that her next job would be to consider an awesome possibility: Sourcing 100 percent of the flowers and foliage she uses in her designs from American flower farms.
"When I went to Alaska and I saw what the farmers there face, it sparked something in me. I had some really good conversations with the flower farmers on the host farm and with other farmers in attendance, and I thought, 'this is something I want to support,'" Shore explains.
After all, Shore had long been working with flower farmers in her area and was committed to the concept of designing with local, sustainably grown flowers as much as possible. At the height of wedding season last year, Shore was using about 75 percent American Grown Flowers by spending several hours each week checking with local farms and various wholesalers to see what domestic flowers they had available.
"I've become close with the local farmers, and I see how hard they work and that their lives are committed to growing beautiful flowers. There's a sense of security and familiarity in knowing that these farms care about their customers, care about the product they are selling and care how their brand is represented," Shore describes.
And that's when that logical next step crept in. What if she committed to using only American Grown Flowers in her designs?
This epiphany led Shore to decide to spend 2018 educating herself on what it would mean to be a florist that uses ONLY American Grown Flowers and foliage – all the time, for every one of her weddings and events.
After all, there are lots of considerations. Price. Availability. Variety. Color palette.
Brides can be persnickety. They want what they see on Pinterest. They have a vision. Can those visions be met year round with all American Grown flowers? And what about her bottom line?
Shore's research so far bodes well for a commitment to going all American Grown. She's found a wholesaler that clearly labels the origins of the flowers it sells. And she's familiarizing herself with a host of U.S. flower farmers to be sure she can source her clients' top picks. Of course, she's also doing price comparisons to be sure that the cost estimates she's already provided to brides can be met with American Grown Flowers.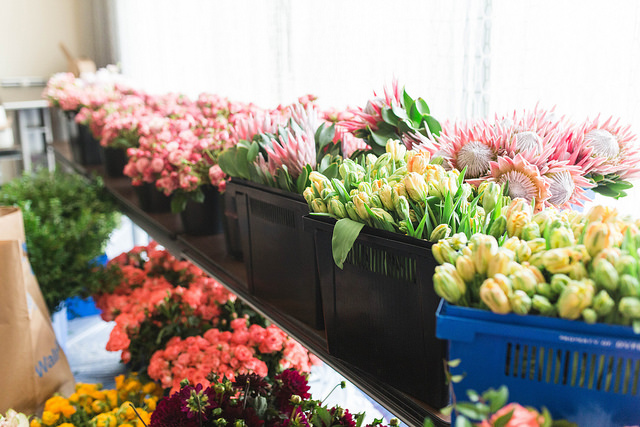 And she's started to tell clients about her big idea. She's educating them and, so far, they appreciate her thinking. "They love it and they think it's an awesome idea," Shore says.
But the research will continue – as it should. And Shore will keep pondering and asking, all in an effort to remain authentic to her reputation as a designer committed to locally sourced, sustainable flowers.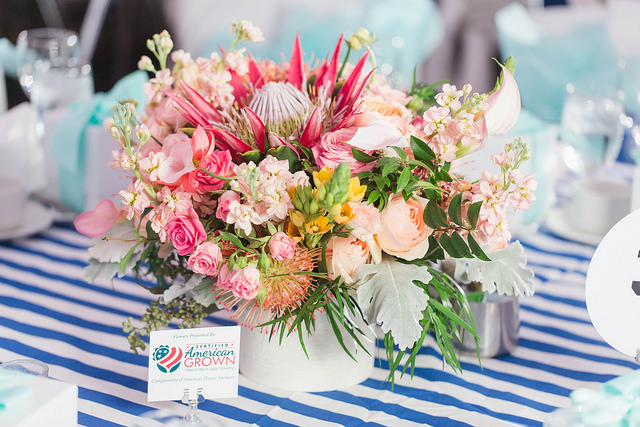 "My gut is saying if you're scared, it's probably something you should do. It's going to be hard. It's going to be different, and I could stick with whatever is easy and not grow or evolve, but I want to evolve, I want to stand out and I want to make a difference. Because it matters to me and to my customers where the flowers are coming from," Shore says. "I know that when I receive flowers from the farms I've made connections with, the quality will be superior and my designs will be the highest quality for my clients.
"I feel like my designs and my aesthetic have become stronger and gained in character with each step I take to educate myself and seek out American Grown Flowers and foliage."