Co-Owner of Ocean Breeze Farms Has Long History of Service, Advocacy  
June Van Wingerden has been a constant force in the ag community, advocating for California cut flowers and water and labor issues for decades. The California State Senate recognized her dedication when they named her California's Woman of the Year in 2005. Now, she's bringing her heart for service, and cut flowers, to her new role as chair of the California Cut Flower Commission (CCFC).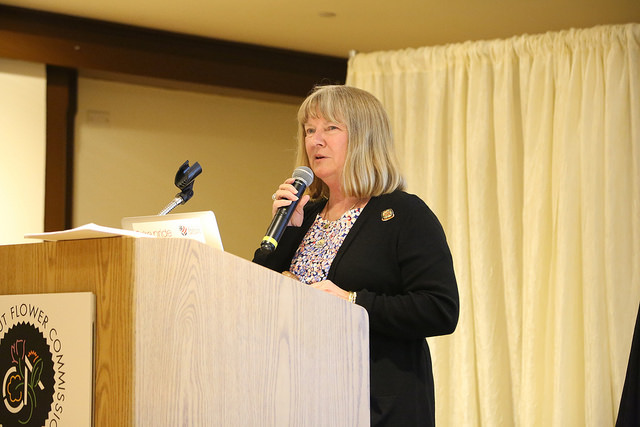 A Commissioner for District 3, Van Wingerden, co-owner of Ocean Breeze Farms in Carpinteria, California, was elected chair of CCFC at its annual meeting held earlier this month.
Farming background
Farming is in Van Wingerden's DNA. She grew up in a cotton-raising family in Central California and has worked in sales, payroll and accounts receivable at Ocean Breeze since 1983. She was previously a teacher.
And giving her time and expertise to ag and flower-farming related groups is all in a day's work for Van Wingerden. She's been a board member for the Carpinteria Valley Water District, president of the Santa Barbara County Flower & Nursery Growers Association, president of the Carpinteria/Santa Barbara chapter of California Women for Agriculture and served on the Santa Barbara County Ag Advisory Committee representing flower farmers.
She's bullish on California cut flowers
Tucked between the coastal mountains and the Pacific Ocean, Van Wingerden can look out almost any window and see rows of greenhouses spilling over with gerbera daisies. And soon there will be more, thanks to her optimism about California's cut flower industry. Ocean Breeze is in growth mode, planning to expand its gerbera daisy nursery and adding 6 acres of greenhouses where it plans to grow lilies.
At one point, as many as 90 percent of gerbera daisies in the United States were germinated in one of the extended Van Wingerden family's nurseries. "Demand is great. Almost every greenhouse is growing gerberas in Carpinteria," she says. "They're kind of known as the California flower because they're hard to ship, so they don't travel as well from South America."
Leading the CCFC
Her new role at the CCFC has Van Wingerden excited and ready to focus on cut flower advocacy, promotion and collaboration.
"I look forward to helping California's flower farmers succeed and I'm honored to lead an organization that's so important for the cut flower industry," Van Wingerden said. "From labor to South American flower imports to water, there are many issues on the table for farmers. The CCFC is an important voice on those topics in Sacramento and Washington, D.C."
She says the CCFC's fly-ins to D.C. and Sacramento have enormous impact. "You just don't do it on your own, and if you do, you're not very effective," Van Wingerden explains.
And the collaboration part? "Individual farmers can't be everywhere. You need a network to work through so that collaboration filters up and filters down. The CCFC provides that network."